31. Lycaena helle (Denis & Schiffermüller, 1775) / Violet copper / Lycaenidae – Lycaeninae
NL: blauw vuurvlindertje, blauwe vuurvlinder / D: Blauschillender Feuerfalter / F: cuivré de la bistorte, l'argus violacé
Very small, wing length 12 (11-13) mm. The species occurs in the Benelux only in the Ardennes, in particular in the surroundings of the raised bog of the Hautes Fagnes and in the small marshes along the rivulets and brooks, where the climate is cool and humid.
Butterfly is on the wing from early-May until early-July and peaks early-June. The species occurs in continental climate, amplitude 8 to 20. The required heat sum is 200°d and maximum tolerated 700°d, this corresponds with climate windows of 15 and 22 weeks.
The species is known from subarctic, mountainous and subalpine climates and at many localities its occurrence can be considered as a relic of post glacial times. The host-plant is usually alpine bistort (Persicaria vivipara).
It can survive in hay-fields if mowing takes place late in the season.
Ecological characteristics

Behaviour over time
Overwintering: pupa in litter layer.
Reproduction: oviposition starts after 3-4 days when the body contains 65 (52-90) eggs. Estimated potential reproduction 1.3 times as much.
Larval feeding periods: three weeks in the second half of May until early July.
Generations: one in the Ardennes (partial second in eastern Europe).
Spreading of risk: hatching of pupae can vary by more than four weeks.
Life cycle: egg about 9 days; larva 21 (17-25) days; pupa 43-47 weeks (two weeks in the case of a second brood).
Life span of adult: very short, 1 week.
Behaviour in space
From stay-at-home to migrant: stay-at-home, spatial requirement modest.
Finding a mate: male perches and inspects every passer-by.
Orientation in the landscape: edge between short and tall herb vegetation.
Oviposition: on the underside of a mature leaf, often two or three together.
Defence
Threats from other organisms: no defence, the larvae drop quickly when disturbed.
Threats from the environment: very little, only micro cupola organs present.
Feeding habits
Adult: nectar, visit small flowers, e.g. forget-me-not.
Larva: young larvae eat the epidermis on the leaf underside, making small windows, late instar larvae eat the whole leaf.
Larval foodplants
Plant species: Polygonaceae, Persicaria bistorta, P. vivipara.
Journal
Rearing experiments based on specimens from Hockai, Belgium:
30 May 1982: three females captured (15 males and 4 females present).
2 June: 8 eggs laid, infertile, females dissected 6 June and 8 June, see table 31-1.
22 June 1983: three females captured at the same locality.
23 June: 20 eggs laid.
2 July: eggs hatched.
10 July: larvae in L4.
13 July: first larvae in last instar.
19 July: first larvae pupated.

Table 31-1. Results of dissections

Table 31-2. Collection and observation localities
B, Herzogenvenn 50° 29' 36"N – 6° 10' 12"E; 4 May 2000.
B, Hockai 50° 29'17"N – 5° 59' 37"E; 6 July 1980, 30 May 1982, 22 June 1983.
D, Blankenheim (Nonnenbach) 50° 22' 40"N – 6° 41' 05"E; 20 June 1983.

Fig. 31-1. Lycaena helle, phenogram adapted from Fichefet et al. 2008: 117.

Fig. 31-2. Lycaena helle, habitat characteristics.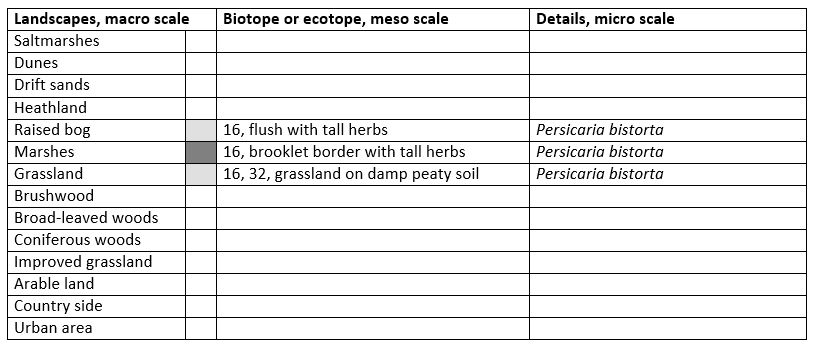 Fig. 31-3. Lycaena helle, climate matrix, heat-sums 200 - 700°d.