67. Pseudophilotes baton (Bergsträsser, 1779) / Baton blue / Lycaenidae – Polyommatinae
NL: klein tijmblauwtje / D: Graublauer Bläuling, Quendel-Bläuling / F: argus pointillé, l'azuré du thym
Very small, wing length 12 (10-13) mm. The species used to occur in the Benelux on a few localities in the south of Wallonia, last recorded in 1971. It inhabits short grass land on warm and dry sites.
The butterfly is on the wing from end-May until mid-August. It is known from mild continental climate, amplitude 8 to 11. Required heat sum 600°d and tolerated maximum 1800°d, corresponding climate windows 22 and 35 weeks.
Scolitantides baton is restricted to central and south Europe. The lifecycle of the species is obscure, it is difficult to distinguish the number of broods. The first butterflies are on the wing in early-May, the last ones early-September.
In Thüringen, Germany, the species occurs on chalk grassland; the gradual decline of the species resulted from the ending of sheep grazing (Thust et al. 2006: 84-85).
Ecological characteristics

Behaviour over time
Overwintering: small larva in third instar, 3 mm in length, in litter layer under host plant.
Reproduction: oviposition starts after 4-5 days when the body contains 53 (38-69) eggs, estimated production 1.8 times as much.
Larval feeding periods: summer brood about 26 days in period end-May until early-August, overwintering generation 12 (9-15) days from early-August until
early-September and in next spring 25 (20-30) days from end-March until early-May.
Generations: one or two, perhaps also a partial third.
Spreading of risk: spread in the appearance of the adult butterfly.
Life cycle: egg 6 (5-8) days; larva summer brood 4 weeks, overwintering generation 39 weeks; pupa about 13 days.
Life span of adult: short, 2 weeks.
Behaviour in space
From stay-at-home to migrant: stay-at-home, spatial requirement modest, occurs in low density.
Finding a mate: male perches.
Orientation in the landscape: warm and dry places with short vegetation with stony areas.
Oviposition: in young flower heads or near shoots.
Defence
Threats from other organisms: cryptic colouration in the larval stage.
Myrmecophily: no attendance by ants observed, pupa doesn't stridulate.
Threats from the environment: probably sensitive to wet and cold conditions in summer.
Feeding habits
Adult: nectar, in most cases on flowers of its own host-plant, thyme.
Larva: feeds mainly on flower buds and young shoots.
Larval foodplants
Plant species: Lamiaceae, Thymus praecox, T. serpyllum, T. pulegioides.
Journal
Rearing experiment based on specimens from Katzenkoepfle and le Strangenberg, Vosges, France:
11 June 1984: one female captured at each location.
14 June: 6 eggs laid, butterflies killed by ants.
21 June: eggs hatched.
4 July: larva in L2 on young fruit.
9 July: one larva in last instar, ate not only young fruits but also the apical meristem, no leaves!
14 July: biggest larva nearly fully grown, another one killed, cannibalistic.
17 July: prepupa observed.
21 July: pupated.
30 July: pupa sent to Nico Elfferich for sound test, proved not to produce any sound.
3 August: first adult appeared.
5 August: second one emerged.
Table 67-1. Results of dissections

Table 67-2. Collection and observation localities
D, Kaub 50° 05' 36"N – 7° 45' 43"E; 26 May 1986.
D, Lorch, 300m, 50° 02' 05"N – 7° 47' 56"E; 31 July 1985.
F, Vosges, Bollenberg, 363 m, 47° 56' 54"N – 7° 15' 21"E; 25 July 1983, 11 June 1984.
F, Vosges, Katzenkoepfle, 565m, 48° 01' 54"N – 7° 06' 04"E; 10 July 1984.
F, Vosges, le Strangenberg, 397 m, 47° 57' 57"N – 7° 16' 29"E; 25 July 1983.
F, Vosges, le Zinnkoepfle, 481 m, 47° 57' 56"N – 7° 15' 08"E; 10 July 1984.
Fig. 67-1. Pseudophilotes baton, phenogram adapted from Ebert & Rennwald 1991b: 274.

Fig. 67-2. Pseudophilotes baton, habitat characteristics.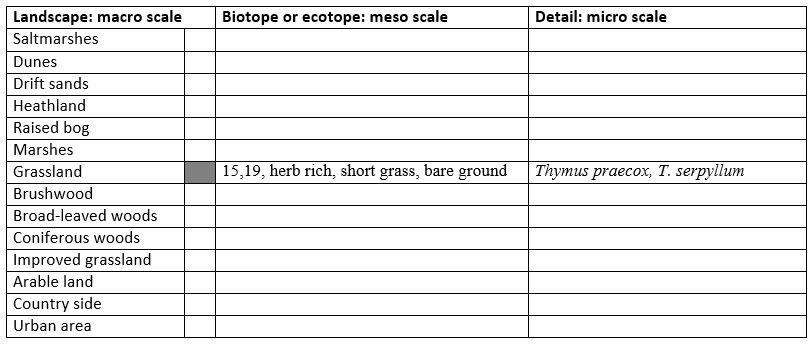 Fig. 67-3. Pseudophilotes baton, climate matrix, heat-sums 600 - 1800°d.