41. Satyrium pruni (Linnaeus, 1758) / Black hairstreak / Lycaenidae – Theclinae
NL: pruimenpage / D: Pflaumen-Zipfelfalter, Schlehen-Zipfelfalter / F: thécla du coudrier, thécla du prunier
Small, wing length male 14 (13-15) mm, female 16 (14-18) mm. In the Benelux the species occurs only locally in the Ardennes in warm sites with old brushwood or shrubs.
Butterfly is on the wing from early-June until early-July and peaks mid-June. The species is known from maritime and mild continental climates, amplitude 7 to 17. The required heat sum is 700°d and maximum tolerated 1500°d, the corresponding climate windows are 24 and 33 weeks.
In England, the occurrence of the species is considered as a relic of an ancient landscape with its once continuous forest. Several re-introductions were carried out and some proved to be successful (Thomas & Lewington 1991: 69).
The black hairstreak is the earliest member of the Theclinae to appear in summer. The species is remarkable for its adults having the shortest life span and the lowest reproductive ability but, nevertheless, has a distribution from Japan to England.
Ecological characteristics

Behaviour over time
Overwintering: egg on twig of a shrub.
Reproduction: oviposition starts after 3-4- days when the body contains about 24 eggs, estimated potential reproduction 2.3 times as much.
Larval feeding periods: 4-9 weeks in the period from early-April until end-June.
Generations: always one.
Spreading of risk: not observed.
Life cycle: egg 38-44 weeks; larva 28 (23-32) days under warm conditions, 63 (54-75) days in cold ones.
Life span of adult: short, 2 weeks.
Behaviour in space
From stay-at-home to migrant: stay-at-home, spatial requirement modest.
Finding a mate: males aggregate on a prominent bush and may display territorial behaviour.
Orientation in the landscape: brushwood and old hedges in the countryside.
Oviposition: on the bark of two or three years old twigs.
Defence
Threats from other organisms: the larva changes in appearance adjusted to the development from bud to shoot feeder. The pupa resembles a bird dropping and is attached to the twig or upper side of a leave.
Myrmecophily: not observed.
Threats from the environment: the species occurs only in sheltered places such as wood edges, shrubs on sunny leeside of hedges, this indicates that it is vulnerable to inclement weather.
Feeding habits
Adult: honeydew on the leaves or nectar of flowers, e.g. privet and elder.
Larva: the newly hatched larva is a bud eater, later on it eats shoots, the meristem point of a twig is preferred.
Larval foodplants
Plant species: Rosaceae, Prunus instititia, P. spinosa and rarely P. domestica.
Journal
Rearing experiments:
1. Based on specimens of unknown origin, provided by Harold Short, Esher:
27 March 1981: eggs already hatched.
1 April: buds of the sloe already burst, larvae not seen.
5 April: larvae at end of second instar.
12 April: biggest larva was now 9 mm in length, green in colour with a few reddish spots.
19 April: larvae 12 mm in length.
22 April: two larvae prepared for pupating.
11 May: first adult appeared.
13 May: last one, hatched early in the morning.
2. Based on specimens from Tävelsrum, Öland, Sweden:
11 July 1982: two butterflies captured.
12 July: 10 eggs laid.
Overwintered in fridge.
13 March 1983: taken out of the fridge.
3 April: buds of the shrub indoors started to burst.
10 April: one egg hatched.
18 April: larva fed on sepals of the flower, now end of first instar (sloe in flower outside).
21 April: larva moulted.
27 April: larva fed roughly, ate the meristem point and dropped the leaves.
8 May: larva pupated.
29 May: adult appeared, male.
Table 41-1. Results of dissections

Table 41-2. Collection and observation localities
B, Beauraing, 280 m, 50° 06'N – 4° 58'E; 15 June 1980.
D, Staffelstein 50° 05' 32"N – 11° 01' 25"E; 16 June 1985.
F, Lorraine, Rupt devant Saint-Mihiel 280 m, 48° 53' 01"N – 5° 24' 10"E; 28 June 2006.
L, Kautenbach 325 m, 49° 57'18"N – 6° 00' 59"E; pupa 23 May 2000.
S, Öland, Tävelsrum 56° 37' 55"N – 16° 32' 23"E; 9 July 1982, 11 July 1982.

Fig. 41-1. Satyrium pruni, phenogram adapted from Fichefet et al. 2008: 151.

Fig. 41-2. Satyrium pruni, habitat characteristics.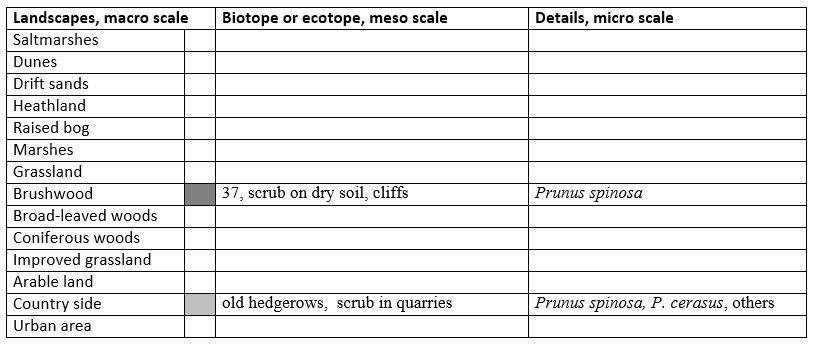 Fig. 41-3. Satyrium pruni, climate matrix, heat-sums 700 - 1500°d.