37. Thecla betulae (Linnaeus, 1758) / Brown hairstreak / Lycaenidae – Theclinae
NL: sleedoornpage / D: Nierenfleck, Nierenfleck-Zipfelfalter / F: thécla du bouleau
Small, male wing length 17 (16-18) mm, female 18 (17-19) mm. In the Benelux, it occurs in all countries but locally. In the countryside it is found in parks and gardens and it is a species typical of the brushwood.
Butterfly is on the wing from end-June until early-October, the peak is end-August. The species is known from maritime and continental climates, amplitude 5 to 17.The required heat sum is 650°d and the maximum tolerated 1800°d and the corresponding climate windows are 26 and 25 weeks.
The species has been thoroughly studied in England because it was considered as a butterfly of the typical British hedgerow that could disappear as a result of modern farm management (Thomas & Lewington 1991: 58, Asher et al. 2001: 122).
A popular way of studying the species is to count the eggs, which are white in colour and can be seen easily on twigs of its host-plant, in wintertime to discover its presence.
Ecological characteristics

Behaviour over time
Overwintering: egg on twig of the host-plant.
Reproduction: oviposition starts after 8-12 days when the body contains 33 (23-43) eggs. Calculated maximum reproduction 7.7 times if the female lifetime reaches nine weeks (Bink & Moenen 2004).
Larval feeding periods: 7 weeks in the period from end-April until end-June.
Generations: always one.
Spreading of risk: the long lifespan and the exploration behaviour of the female favours the survival of the population when unexpected adverse events occur.
Life cycle: egg 36-39 weeks; larva 36 (31-41) days in warm periods, normally 47 (39-56) days; pupa 28 (20-38) days.
Life span of adult: very long, 6 up to 9 weeks.
Behaviour in space
From stay-at-home to migrant: stay-at-home, spatial requirement considerable.
Finding a mate: males gather at a tree top or remarkable site in the landscape, females look for males.
Orientation in the landscape: scrubby landscape or wood edges, in countryside also parks and gardens.
Oviposition: on twig of the host-plant near a bud or notch.
Defence
Threats from other organisms: vulnerable to avian predation in larval stage, in pupal stage in the litter layer to predation by mice and shrews (Thomas & Lewington 1991: 60).
Myrmecophily: larvae are not attractive to ants, but the pupae can attract them by stridulating.
Threats from the environment: larvae and butterflies are only found in sheltered places, so they are sensitive to wind and heat.
Feeding habits
Adult: honeydew and nectar of flowers, which have a short corolla like golden rod and wild parsnip.
Larva: the very small larva lives inside a young shoot, after the first moult on the underside of the mature leaves. The larva changes its colour from bright green to dull pinkish brown on descending the bush and pupates in the litter layer.
Larval foodplants
Plant species: Rosaceae: Prunus cerasifera, P. domestica, P. instititia, P. spinosa.
Journal
Rearing experiments based on specimens from Stenåsa, Öland, Sweden:
16 August 1983: female captured and produced 15 eggs.
Overwintered outdoors.
20 April 1984: eggs hatched.
8 May: end second instar on underside of leaves and fed on leaves.
3 June: in L4.
19 June: changed colour and became pink - ready to pupate.
15 July: first adult appeared, male.
17 July: second one, female.
29 July 1984: dissection of a 12 day old female (see table 37).
Predation experiment in garden, Bennekom, Netherlands:
4 October 2001: a small shrub, on which 33 eggs were laid in summer, was exposed to all potential predators such as earwigs.
8 March 2002: 22 eggs were discovered, of which 8 showed only a trace of the former eggshell, and 11 had disappeared completely.
The remaining 14 eggs hatched, so the winter survival was c. 42%. (Bink & Moenen 2004)

Table 37-1. Results of dissections

Table 37-2. Collection and observation localities
F, la Grande Brière 47° 23' 42"N – 2° 17' 22"W; 24 September 2004.
F, Montmédy 217 m, 49° 31' 07"N – 5° 21' 33" E; 19 August 1984.
F, Normandy, Carolles 48° 44' 54"N – 1° 34' 00"W; 23 September 2002, 31 August 2006, 17 September 2007.
L, Kautenbach 240 m, 49° 56' 25"N – 6° 01' 34"E; 28 September 2001.
NL, Bennekom, garden 51° 59' 30"N – 5° 40' 34"E; 1990-2010.
NL, Junner Koeland 52° 31' 51"N – 6° 28' 54"E; 26 March 1981 (eggs).
S, Öland, Noaks ark 26 m, 56° 46' 29"N – 16° 37' 27"E; 17 August 1983.
S, Öland, Stenåsa 56° 32' 44"N – 16° 36' 43"E; 7 July 1982, 16 August 1983.

Fig. 37-1. Thecla betulae, phenogram adapted from Bos et al. 2009: 150.

Fig. 37-2. Thecla betulae, habitat characteristics.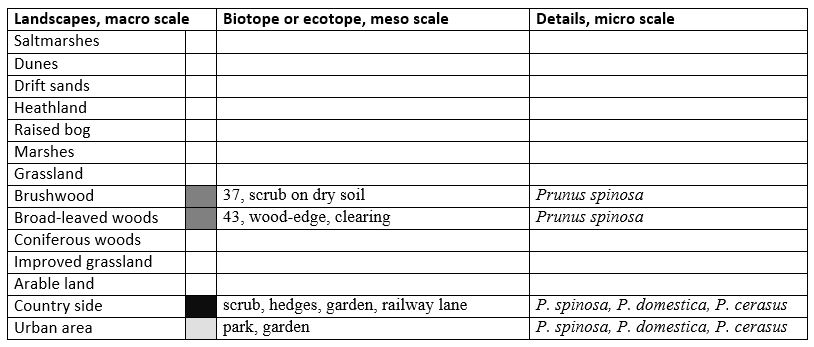 Fig. 37-3. Thecla betulae, climate matrix, heat-sums 650 - 1800°d.