112. Argynnis niobe (Linnaeus, 1758) / Niobe fritillary / Nymphalidae –Heliconiinae
NL: duinparelmoervlinder / D: Stiefmütterchen_Perlmutterfalter, Mittlerer Perlmutterfalter / F: chiffre, le nacre mat
Medium-sized or large, wing length 26 (23-30) mm. In the Benelux the species occurs widely spread in the coastal dunes of the Netherlands and formerly also in heathland on the Hoge Veluwe. Elsewhere in the Benelux it is known from a few grasslands in Wallonia.
Butterfly is on the wing from end-June until early-August. The species is known from sub-maritime to severe continental climates. Required heat sum is 300°d and the maximal tolerated 1800°d, corresponding climate windows 17 and 35 weeks.
The species does not occur in England but is locally common in the northern part of the Dutch dunes. It disappeared around 2005 from the heathland of the Hoge Veluwe, where it occurred together with Argynnis aglaja. Both species have much in common in requirements and behaviour but their yearly population fluctuations were not synchronized. Their main difference is the way of overwintering, A. niobe as egg and A. aglaja as newly born larva. The latter species has a very wide distribution in Europe and occurs in many types of climate, whereas A. niobe is restricted to sub-continental climates.
At the heathland on the Hoge Veluwe a curious relationship could be observed. In this park there are wild bores (Sus scrofa), which in winter make a diffuse pattern of small holes when digging up the roots of creeping thistles (Cirsium arvense) and rose bay (Epilobium angustifolium); after a year these holes become excellent growing places for violets. So the wild bores created a habitat for the fritillary butterflies. Although this butterfly species sometimes occurred abundantly, it has now disappeared from this interesting locality.
Ecological characteristics

Behaviour over time
Overwintering: egg attached to any dry and wilted stem close to a violet.
Reproduction: oviposition starts after 6-8 days when the body contains 120 (100-140) eggs. Potential reproduction 1.4 times as much.
Larval feeding periods: 54 (47-60) days in period mid-April until end-June.
Generations: one.
Spreading of risk: not observed.
Life cycle: egg 38-42 weeks; larva 8 weeks; pupa about 14 days.
Life span of adult: rather long, 3 weeks.
Behaviour in space
From stay-at-home to migrant: stay-at-home, spatial requirement considerable.
Finding a mate: male patrols and meets females at nectaring sites.
Orientation in the landscape: edges between short grass and wood, mosaic pattern of short and tall grass caused by grazing livestock or rabbits.
Oviposition: on the dried stems of old violets or surrounding grasses.
Defence
Threats from other organisms: larva is armoured by spikes.
Threats from the environment: larva survives well dry weather periods.
Feeding habits
Adult: nectar of flowers, in the dunes viper's bugloss (Echium vulgare) and privet (Ligustrum vulgare) on the heath of the Hoge Veluwe creeping thistle and flowering trees of common lime (Tilia vulgaris).
Larva: wanders around, basks and feeds for a short time on every host plant found.
Larval foodplants
Plant species: Violaceae, e.g. Viola canina, V. curtisii, V. rupestris.
Journal
Rearing experiment based on specimens from national park Hoge Veluwe, Netherlands:
11 July 1983: three females captured.
14 July: one female laid 46 eggs.
Overwintered indoors.
5 February 1984: eggs in box were dried out, sprayed with water.
20 April: all eggs put on tussock with violets.
3 May: no trace of activity, eggs presumed dead.
1 June: two larvae collected in the field, one fully grown, one fourth instar.
5 June: larvae wandered around, ate often and basked.
8 June: one pupated.
22 June: adult appeared.
Table 112-1. Results of dissections

Table 112-2. Collection and observation localities

CH, Martigny, 46° 07' 41"N – 7° 05' 17"E; 20 July 1986.
F, Vosges, Grand Ballon, 1424 m, 47° 54' 04"N – 7° 05' 54"E; 26 July 1983.
F, Vosges, le Steinberg, 1150 m, 47° 59' 27"N – 7° 06' 40"E; 21 August 1984.
NL, Bakkum, 52° 33' 13"N – 4° 37' 58"E, 4 June 1985.
NL, Castricum, 52° 33' 07"N – 4° 37' 43"E; 23 June 1998.
NL, Hoge Veluwe, 52° 05'N – 5° 51'E; 26 July 1980, 25 June 1982, 29 July 1982, 8 July 1983, 1 June 1984 (larvae), 30 July 1984.
NL, Hoge Veluwe, 52° 04' 47"N – 5° 49' 47"E; 27 July 2000.
NL, Texel, 53° 01' 15"N – 4° 43' 39"E; 8-6-1980, 26 June 1995.
NL, Zandvoort, 58° 22' 00"N – 4° 32' 14"E; 16 June 2002.
Fig. 112-1. Argynnis niobe, phenogram adapted from Bos et al. 2006: 302.

Fig. 112-2. Argynnis niobe, habitat characteristics.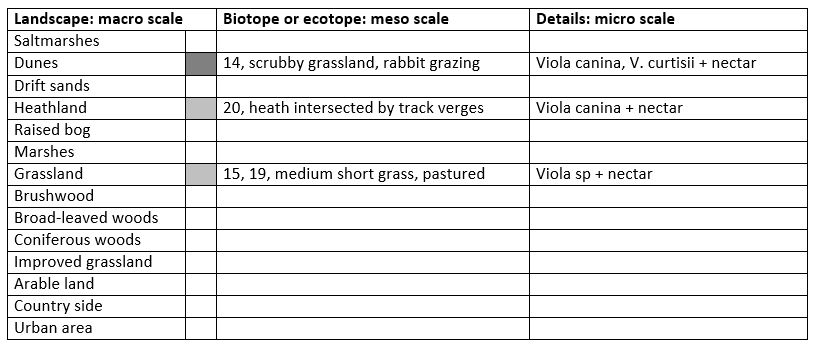 Fig. 112-3. Argynnis niobe, climate matrix, heat-sums 300 - 1800°d.