102. Euphydryas maturna (Linnaeus, 1758) / Scarce fritillary / Nymphalidae – Melitaeinae
NL: roodbonte melitea, roodbonte parelmoervlinder / D: Kleiner Maivogel, Eschen-Scheckenfalter, Maivogel / F: damier du frêne
Medium-sized, wing length 21 (19-23) mm. Not present in the Benelux, was known from a few localities in Luxemburg and Wallonia. The last record dates from 1921.
Butterfly is on the wing from end-May until end-June. The species is known from continental climate, amplitude 8 to 20. Required heat sum 600°d and maximum tolerated 1800°d, corresponding climate windows are 22 and 35 weeks.
The species is in strong decline all over Europe, in historical time it was sometimes recorded as abundant in coppiced woods with sparse trees.
Ecological characteristics

Behaviour over time
Overwintering: small larva, 4-5 mm in length, gathered in small groups under wilted leaf in the litter layer.
Reproduction: oviposition starts after about five days when the body contains 270 (200-330) eggs, potential production the same.
Larval feeding periods: young larvae in summer 35 (27-40) days in the period from mid-July until early-September, in next spring 45 (37-52) days in period early-April until mid-June.
Generations: one.
Spreading of risk: repeated diapause by some larvae.
Life cycle: egg about 15 days; larvae 46 or 98 weeks; pupa 18 days.
Life span of adult: short, 2 weeks.
Behaviour in space
From stay-at-home to migrant: stay-at-home, spatial requirement modest.
Finding a mate: male patrols.
Orientation in the landscape: woodland or scrubland with an under-layer rich in herb species.
Oviposition: one big clutch of about 250 eggs on the underside of a leaf in the crown of an ash.
Defence
Threats from other organisms: larvae are armoured with bristles, in the last instar bright coloured yellow and black, the typical colours for defence against avian predators.
Threats from the environment: natural succession in vegetation, a wood may become too dark.
Feeding habits
Adult: nectar, flowers like valerian, but show little feeding activity.
Larva: young larvae live together in a big silky nest, just prior to diapause the larvae descend the tree and look for an overwintering site in a wilted leaf in the litter layer. There is a remarkable change, the early stages feeding on ash in summer and post diapause in spring on various herbs.
Larval foodplants
Plant species: oviposition on Fraxinus excelsior, Oleaceae. In spring captive larvae will accept Caprifoliaceae, Lonicera periclymenum, L. xylostenum, Valeriana officinalis, Dipsacaceae, Dipsacus fullonum, Oleaceae, Fraxinus excelsior, Ligustrum vulgare, Plantaginaceae, Plantago lanceolata.
Journal
Rearing experiment based on specimens from Markt Bibart, Steigerwald, Germany:
24 July 1984: two clutches collected from Fraxinus excelsior, one containing 250 brown eggs, the other 261 reddish eggs with a few unfertilized yellow eggs.
1 August: eggs of first clutch hatched.
2 August: larvae curled a leaflet and made a web inside.
3 August: second clutch hatched.
10 August: larvae moulted.
13 August: larvae basked in the morning and in the afternoon moved to the shaded underside.
17 August: larvae in third instar and ate in a row together.
27August: larvae descended individually from the ash shrub and made new nests containing between 5 and 40 larvae in the litter layer.
10 September: all larvae in diapause.
Overwintered indoors.
14 March 1985: about 20 larvae were active, stayed together and preferred to eat the young leaves in the heart of common teasel (Dipsacus fullonum).
16 March: more larvae were active and ate common teasel and young leaves of ribwort plantain (Plantago lanceolata).
24 March: first larva in moult, total number of larvae 137.
31 March: accepted the following food plants: Dipsacus, Valerianella, Valeriana, Plantago but surprisingly Succisa pratensis was refused.
6 April: final 5 larvae accepted honey suckle (Lonicera periclymenum).
19 April: first larvae pupated.
28 April: 34 pupae (1 dead), seven prepupae, seven larvae feeding, seven in second diapause (12.5%).
6 May: last active larva pupated. Ligustrum, Fraxinus & Populus accepted by larvae.
8 May: five males appeared.
11 May: two females hatched.
30 May: 10 day old female started to oviposit.
Table 102-1. Results of dissections

Table 102-2. Collection and observation localities

D, Markt Bibart, Steigerwald, 49° 39'N – 10° 23'E; 24 July 1984.

Fig. 102-1. Euphydryas maturna, phenogram adapted from Ebert & Rennwald 1991a: 538.

Fig. 102-2. Euphydryas maturna, habitat characteristics.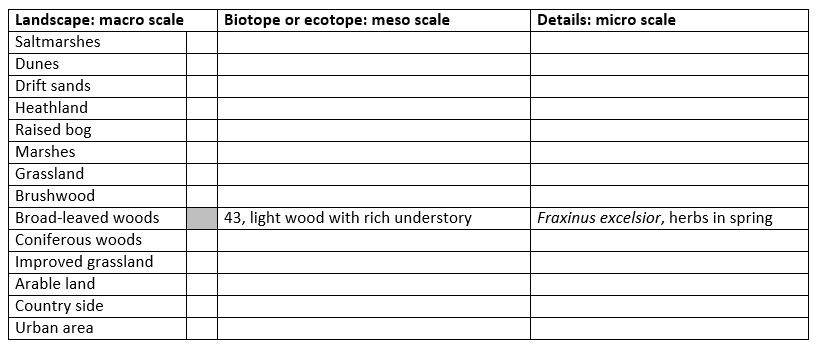 Fig. 102-3. Euphydryas maturna, climate matrix, heat-sums 600 - 1800°d.