97. Polygonia c-album (Linnaeus, 1758) / Comma butterfly / Nymphalidae – Nymphalinae
NL: gehakkelde Aurelia / D: C-falter / F: Robert le diabele, le papillon-c, le gamma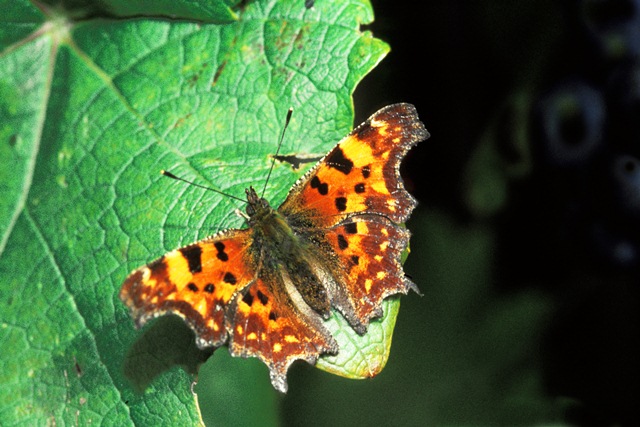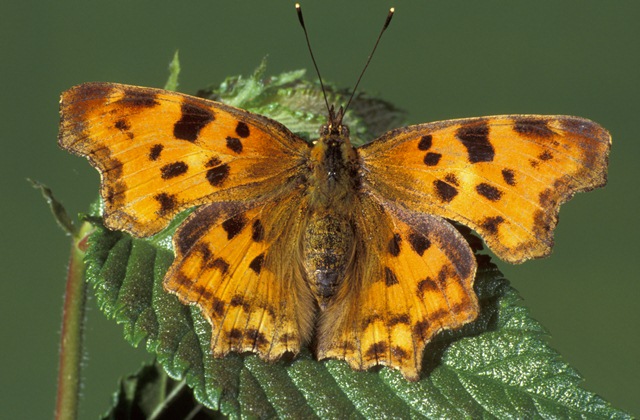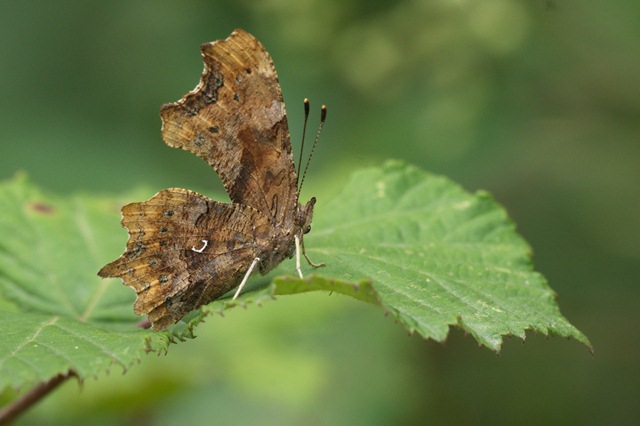 Photographs: Frits Bink, Frits Bink, Jeroen Voogd ©.
Medium-sized, wing length 22 (20-26) mm. In the Benelux the species is known from broadleaved woods, copses, in most cases on humid sites, and from parks and gardens in the countryside.
Butterfly is on the wing in spring from mid-March until early-May and the offspring in the summer from end-June until mid-October and peaks mid-July and mid-September.
The species is known from maritime climate and severe continental climates, amplitude 6 to 20. Required heat sum 400°d and maximum tolerated 2200°d, corresponding climate windows 20 and 41 weeks.
The occurrence of the species fluctuates, periods abundance in a region are followed by scarcity or even disappearance. In England the dry and hot summer in 1976 was deleterious for the species, followed by recovery and expansion of its area up to Scotland (Asher et al. 2001: 208-211). Also in the Netherlands an expansion has been observed during the last 30 years (Bos et al. 2006: 265-267).
A curious behaviour of the female when intending to oviposit is the repeated changing of the selection of the host-plant species. The chemical quality of a leaf or bud is tested by drumming with the front legs.
Ecological characteristics

Behaviour over time
Overwintering: adult hidden under piles of wood, in hollow trunk, cave or shed.
Reproduction: oviposition starts after overwintering in spring or in summer after 7-10 days when the body contains about 45 eggs, estimated potential production 2.7 times as much. The reproduction period lasts up to three weeks and the female produces on the average 15 eggs per day, but stops egg-laying during unfavourable weather.
Larval feeding periods: 2-4 weeks in period from May until September.
Generations: variable, one to three.
Spreading of risk: flexible diapause and interrupted oviposition.
Life cycle: egg 6 (4-7) days; larva 22 (15-27) days; pupa 14 (9-17) days.
Life span of adult: very long, overwintering generation 30-40 weeks, 6-8 weeks in summer generation.
Behaviour in space
From stay-at-home to migrant: nomad, spatial requirement considerable.
Finding a mate: male perches and patrols from time to time.
Orientation in the landscape: edges of woods and copses.
Oviposition: individually laid on a young leaf after carefully checked the quality of the host plant.
Defence
Threats from other organisms: larva is armoured with sharp spines and mimics a bird dropping.
Threats from the environment: the species is bound to a woodland environment.
Feeding habits
Adult: rotten fruit, sap of wounded tree, nectar of all kinds of flowers.
Larva: its behaviour is adjusted to its mimetic colours, it rests in a curled position resembling a bird dropping.
Larval foodplants
Plant species: Cannabaceae, Humus lupulus, Ulmaceae, Ulmus sp, Urticaceae, Urtica dioica, Salicaceae, Salix caprea, S. cinerea, Saxifragaceae, Ribes rubrum.
Journal
Rearing experiment based on specimen from Bennekom, Netherlands:
3 July 1990: female captured in garden, butterfly was egg-laying on Ribes rubrum, Urtica dioica and also on young sprouts of Clematis viticella, an as yet unrecorded host-plant.
9 July: eggs hatched.
15 July: larvae in moult L2-3.
22 July: biggest larva fully grown, the smallest in moult L3-4.
24 July: six larvae pupated.
31 July: two hatched.
9 August: last pupa hatched.
Table 97-1. Results of dissections

Table 97-1a. Oviposition sequence

Table 97-2. Collection and observation localities

D, Borkener Paradies, 52° 43' 29"N – 7° 14' 36"E; 9 July 2002.
F, Brittany, Telgruc-sur- Mer, 48° 12' 25"N – 4° 22' 25"W, 29 September 2004.
F, la Grande Brière, 47° 23' 42"N – 2° 17' 22"W; 24 September 2004.
NL, Bennekom, garden 51° 59' 30"N – 5° 40' 34"E; 1990-2014.
NL, Schuitwater, 51° 28' 35"N – 6° 07' 43"E; 8 July 2003.
Fig. 97-1. Polygonia c-album, phenogram adapted from Bos et al. 2006: 267.

Fig. 97-2. Polygonia c-album, habitat characteristics.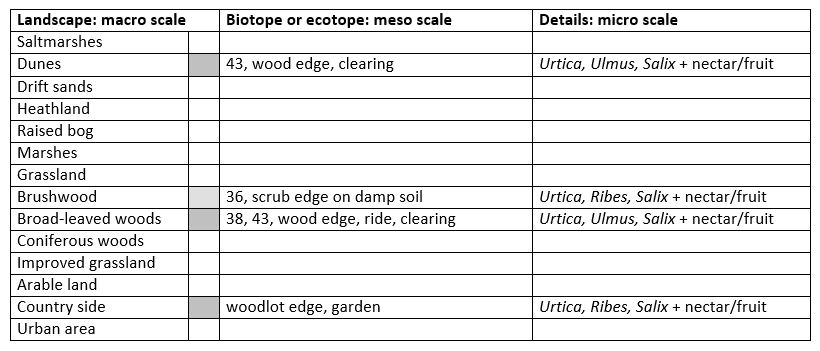 Fig. 97-3. Polygonia c-album, climate matrix, heat-sums 400 - 2200°d.